Malaysia & Singapore / 2011
On my way to attend a scholarship in Indonesia my GF and I went backpacking for some three weeks through Malaysia in September 2011. After a shorter visit last year we were somehow already accustomed to the how-abouts of this beautiful and backpacker-friendly country and could meet up with old friends in Ipoh and Kuala Lumpur.
Furthermore we explored the Island Perhentian Kecil and relaxed some days in a Bungalow with an undescribable view and some spots that make a hard man humble.
After that we followed a chance inviation to a free stay in the Shari-La Resort in exchange for a piece on the central conference room. Zaidi: Truly a manager with a heart for art.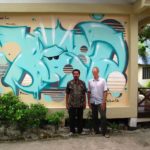 On to a short stop in the adorable old colonial town of Melaka, where I was lucky to find a nice abandoned villa to drop some paint after exploring the small alleys of chinatown and strolling the riverside. Corny shit yo!
Straight into Singapur to catch the flight to Jakarta. This city struck us as the most ridiculous shiny castle ever. We found surrealistic and sky-high babel-ed consumism deluxe where we rested our weary eyes. I was lucky to meet some huge hearts at the Blackbook studio, where I had the pleasure to paint. One of many highlights was SlacSatu, who invited me to paint for the ZNC. A great motivation and honor to belong to this worldwide group counting more than 60 writers.